We design our menus to serve the best of extravagant, authentic Indian dining and contemporary culinary expertise. By popular demand, we've restored our Thali Menu, so guests can enjoy our recipes the traditional thali way.
Rather than choosing a single dish on the menu, thali gives you a variety of dishes to enjoy together. Every Indian state has local thali traditions, but the concept is consistent across the subcontinent: one plate; every flavour.
Take a look at the Itihaas Thali Menu to see our range of Birmingham thali selections.
What Is Thali? The Thali Way to Eat Indian Food
Thali is best described as Indian Tapas: a variety of Indian dishes served together in small portions.
The word 'thali' (pronounced "taa-lee") comes from the Hindi for "plate". Thali can refer to both the serving style and the large plate itself.
Some thali plates are flat, with dishes served in small bowls called katori/katora. Others have different sections like a bento box, or indents to hold the katori in place.
The centre of the tray is often reserved for rice or naan, which you can use to eat the curries or dishes in the katori.
History of Thali
Historically, thali was served in royal households or those of wealthy Indians, and there are many examples of 15th-century paintings showing people eating thali. These were lavish meals, with rich dishes cooked in ghee and at some celebratory times with sugar and milk.
According to chef Maharaj Jodharam Choudhary, traditional etiquette was that 'no one could get up until everyone had finished their food. This way, thali inculcated meal-time discipline.'
Choudhary also suggests the small katori meant guests could enjoy 'a gigantic meal with limited portions of each flavour', communicating extravagance without over-indulgence.
It is thought that the thali tradition may have originated in Ayurveda. This is an ancient Indian system of holistic medicine in which the whole person, mind, body and spirit, must be treated together. Ayurveda teaches a theory of balanced meals similar to modern nutritional science, which requires meals to provide different food types as well as a full spectrum of flavour across sweet, sour, salty, pungent, bitter and astringent.
With many small dishes served together, thali is an excellent example of balancing dishes in this way. The different thali throughout India and the world follow the same pattern of food types.
Different Types of Thali Food
On each thali plate, you will always find the same basic ingredients or food types, to provide balance. A well-designed thali menu includes:
Grains: often rice, rice-based papadum or wheat-based naan
Vegetables: either in curry, steamed or tempura
Lentils: usually as a creamy daal
Chutney or Aachar: a sweet or sour pickle
Raita: yoghurt or curds mixed with mint and cucumber, for cooling
Sweets: Kheer or Gulab Jamun in Rubri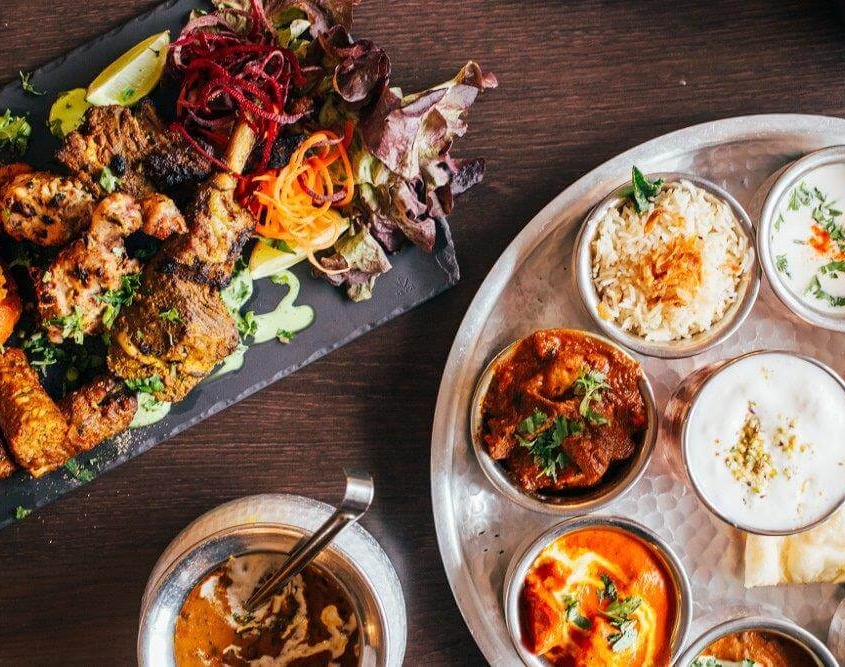 On our Thali menu, you'll find five different thali meals, each with 7-9 dishes to try.
We offer a Vegetarian Thali, with aromatic Methi Aloo Gobi and a delicious Makhani Paneer.
Our Street Food Thali celebrates the best of Indian street food, with Papri Chaat, Tempura Vegetables, Hakka Noodles and Bombay Chilli Chips.
For a more elegant option, our Shahi Thali comes with a luxurious Lamb Rogan Josh and Delhi Butter Chicken.
Nashtha Thali is perfect for brunch lovers, with chana masala, soft bhatura bread and a shot of sweet lassi.
Finally, Itihaas' Executive Thali option celebrates the most luxurious dishes from across India, with a Goan Prawn Curry, Rogan Josh, Makhani Murgh (Butter Chicken) and for dessert, sweet and sticky Gulab Jamun in Rubri.
We call our thali "Bottomless" because you can ask your server to refill any of the dishes in your thali as standard.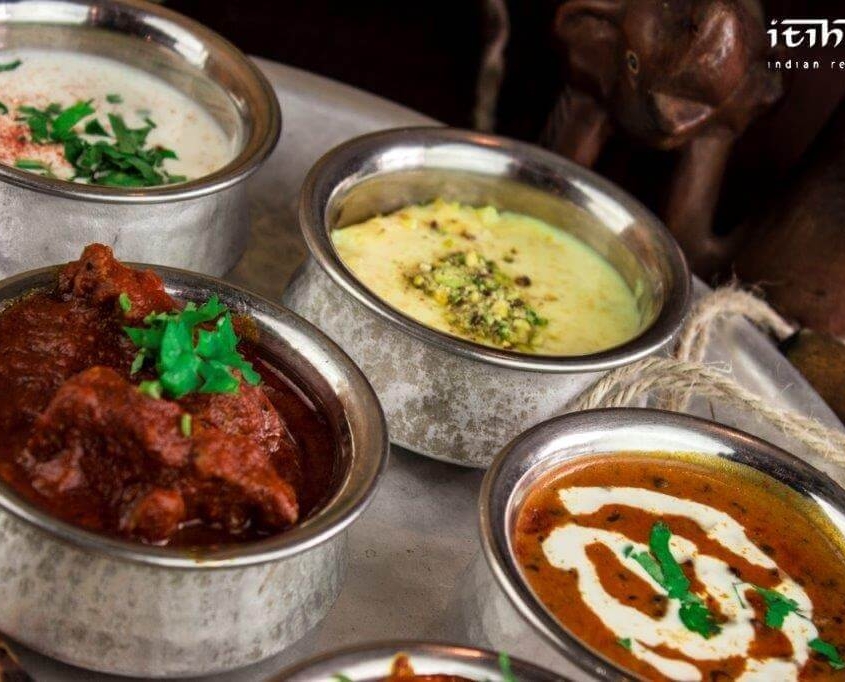 Traditional Indian Thali in the Jewellery Quarter
We recently relaunched our popular Bottomless Thali Lunchtime offer. Diners are welcome to our gorgeous Birmingham restaurant to eat delicious thali dishes every Sunday from 1 pm – 4 pm. For one of the best South Asian restaurants offering thali, head to the Jewellery Quarter in Birmingham's City Centre and enjoy a whole range of food in one meal.
Avoid disappointment: Book your table at Itihaas now.
https://www.itihaas.co.uk/wp-content/uploads/2023/11/thali.jpg
700
1500
admin@itihaas
/wp-content/uploads/2020/01/logo.png
admin@itihaas
2023-11-10 13:52:59
2023-11-13 15:45:59
What's on Itihaas' Thali Plate?